The Cat Whisperer
I'm forbidden from going to animal shelters or horse shelters/auctions because I usually come home with something and it's usually not the prettiest thing there. I feel sorry for the ones that have the least chance of being adopted by anyone, except me of course. One poor cat lived to be 24 years old. Early last year one of our favorites passed so it occurred to me that this might be a good time to start cat shopping. When we first got married, oh so long ago, we got a seal point Siamese kitten who turned out to be very unique. I found a few cats who might fit in but things have changed. For one thing they are expensive, and the shelters want personal references, veterinarian references, home inspection, etc.. Now I can appreciate that they are just looking out for the welfare of the animal but I just want a cat not the 3rd degree. Awhile back we adopted two cats, one Siamese and one black, from the Oakland animal shelter. Their procedure was simple, come in, meet the animal with one of their "cat counselors", fill out the paperwork basically stating you'll take care of it, pay a small fee, and take home your new pet. We took home two because they came as a bonded pair. I'm not to sure about that but they were great cats. One passed of old age and the other still sleeps with us.
At this time I was still commuting so it was somewhat of a detour but not too bad to go there so I checked their website. There I found a young perfect seal point Siamese who, of course, was paired with a young black cat. I suspect they do this to insure the black ones find homes. I didn't care, the more the merrier, and the last time we did this it worked out perfectly. So the next weekend I made the detour and they were both there. I was in their system so with a short visit and $35.00 each we were on our way home. Shy and skittish they spent the first couple of days hiding in the master bathroom then progressed to under the bed. The Siamese, Sammy, started to relax first and after awhile the black one, CeCe, did also. Both of them were afraid of what ever we were doing, especially me, so I figured their previous antagonist was male. Sammy took to us right away and now, when laying in the middle of the floor, she just looks at us like "I'm here! Go around!" CeCe still jumps up and runs at my approach but has become my lap kitty when i sitting still. Sammy thinks Pam is the best thing since the invention of tuna. Follows her everywhere and sits perched on her shoulder. The black cat is restricted to indoors as she wanders too far for our comfort but Sammy gets to go out for short playtimes. I noticed a lunge whip by the front door and asked Pam about it.
"That's how I call Sammy to come in."
"With a whip?"
"Yes, watch this."
Sammy was no where is sight when Pam cracked the whip. Instantly the cat appeared from around the tack room and raced right up to her. Opening the front door Sammy scurried inside, turned, and waited for Pam to enter.
"Only you could call a cat by cracking a whip." I said to my sweetly smiling wife.
My wife, the cat whisperer.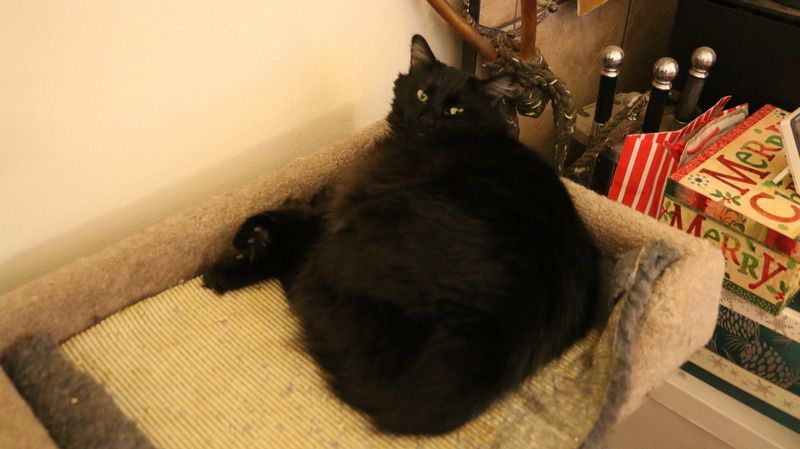 Mike