I also got to see El Nabila in Scottsdale, fresh off the plane when he was presented at North's in 2006. I love the Nabeg sire line particularly for the hips, substance and beautiful big eyes. I also agree that these lines have what it takes to be successful in the working western & sporthorse disciplines, we have a couple Nabeg-bred colts we're hoping will be proving that in a couple years. Actually on the topic of the athleticism of these lines there is another interesting example of the Egyptian/Russian cross in Nykoli+/ (Ansata Halima Son x *Matsya by Podsnejnik) who has a very impressive record on the track.
Menes breeding has been so successful overseas that a lot of what we had in North America was exported, about the time we were getting started breeding Russian bloodlines we watched sadly as the straight Russian Menes son Menescen left permanently for Europe. Even more sadly we read helplessly this year as the only available straight Russian Menes son that we were aware of in North America was sold through a low end auction to Mexico- despite attempts to locate him and get him out of the home that sent him there.
It was a dream come true for us to be able to lease the straight Russian Menes daughter Sentiment from Cindi Nutter in 2007, we now have a gorgeous 2008 daughter from her and she is back in foal for September.
Here are a couple pictures of El Nabila's sire, Kubinec: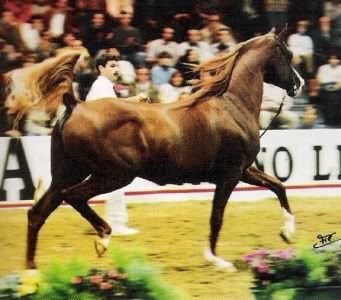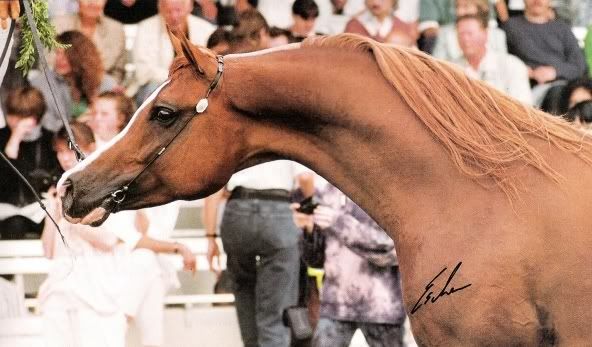 Kubinec's dam, Kosmetika: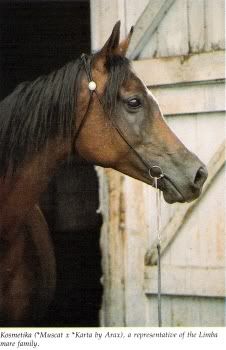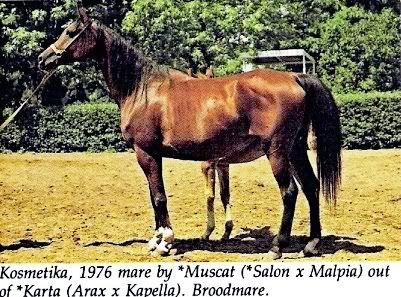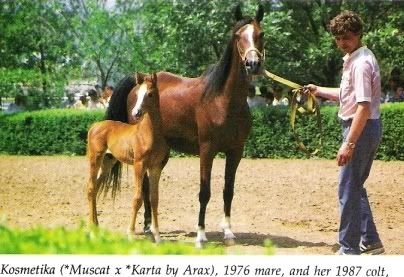 And Balaton: