1
Chapter 5 - Moriah De Mayo and Treasure
Posted by greygelding , 02 April 2016 · 1,152 views
Moriah De Mayo and Treasure
Treasure
Throughout her teenage years Pam was taking riding lessons. She rode English hunt seat learning to jump. Her instructor was very good and had her riding a variety of horses both in the ring and jumping on a cross country course. She longed for a horse of her own and as a horse crazy girl this was a dream that finally came true. Treasure was certainty named appropriately and Pam was a girl in heaven. She took excellent care of her and took her to several horse shows earning her some ribbons which she still prizes to this day. A liver chestnut thoroughbred cross mare standing about 16 hands tall she was sweet and willing to please her new owner. When Pam and I were dating and things became serious she made one thing perfectly clear. "Love me, love my horse". I knew from that moment that there would never be a day in our lives without a horse in it. Treasure, with the guidance from Pam, taught me how to ride. Riding in the ring was fine but we both preferred the trail sometimes riding double with Pam until we obtained Primero.
Pam was riding Treasure but wanted more. She desired a younger horse with more energy and drive than Treasure was showing in her senior years. We looked around and found Primero's only purebred daughter was for sale. We decided to take a chance that she would be a suitable mount for Pam and purchase her. This decision led to another decision I would later make that I would regret for the rest of my life. Moriah was only 13.2 hands in height but large in heart. She came without the baggage that her father carried when he arrived with us. While not fearless she wasn't afraid of her own shadow or much else for that matter. Intelligent, with a sweet personality to match, she quickly became Pam's favorite mount. Pam took her time and schooled her well. While we and the father daughter team enjoyed trail riding together, Treasure was spending a lot of time at home. She also ate 2 1/2 times what the Arabs ate. I thought that it would be easier on our budget and better for her if we could find her a good home. With a small amount of urging on my part, Pam agreed and we found what we believed to be a nice home for her. A few months later we were informed by someone that Treasure had lost a lot of weight and was just sitting unhappily in a stall. We contacted the owners and offered to buy her back but they refused and didn't want us to come for a visit. Later I offered double what they paid us for her but was informed that she had died. Rumors had it that she either died in her stall or worse went to an auction. I never was able to find out what became of her but I vowed to never let that happen to one of my horses again. I also was determined to help any horses in need that I could. I have since transported horses most of the length of California, bought neglected horses, and anonymously paid board on a horse all with Treasure in the back of my mind.
Moriah
Primero had two purebred foals, one colt and one filly. The colt was now a gelding and was the riding horse of another lady who was boarding at the stable. Her family owned two of his half Arab siblings as well. When Pam decided she wanted a younger horse we found that the filly was for sale. With the addition of Primero's daughter at the stable it became a family reunion. Moriah was about a year and a half old when we purchased her and she came as a clean slate. Pam showed her halter and she did OK at the local shows but as she was small, maturing at 13.2 hands, she failed to be competitive at Arabian shows. Pam didn't care as she was in love with her and enjoyed showing no matter what the outcome.
Due to the horses young age Pam was thrilled to undertake her training and Moriah seemed to be equally happy with her. It was the beginning of an unbreakable bond between the two. One thing that became apparent and also as a surprise was the Arabian attitude. Like most people, were under the impression that they were high spirited, spooky, flighty horses that were hard to train. Primero had done nothing to dispel that notion. Moriah, on the other hand, was loving, spirited but kind, not afraid of much, very willing to learn and adored Pam. We learned that most horses are not born bad but humans have a hand in making them that way form early on. It turned out that when she put her mind to it Pam was an excellent western trainer. Her little mare put on a nice performance at the local shows. I always used the word "ho" for a stop while Pam would use it on the trail but preferred the command "halt" in the arena. At one of the local shows she was having a nice day and the competition was fierce between her and a nice quarter horse. They were swapping first and second places all morning long. After the last class they were tied for the high point trophy. It was decided that there would be a ride off. Both of the horses and their riders arose to the occasion and the judge was apparently having a tough time coming to a decision. This was the moment when it pays to ride an intelligent horse. The command came from the loudspeaker "HALT!" The quarter horse did an nice stop with just a couple of steps. Moriah heard the command at the perfect moment. She went from the lope to a complete stop in one stride. Fortunately Pam was ready and managed to keep her seat without showing the difficulty of doing so. Immediately the judge ordered them into the center to line up and the trophy was hers. Pam couldn't stop grinning for a week.
Parade
There was as annual parade downtown and Pam wanted to get Primero and all his kids together to ride in it. As they were all at the same boarding place now it wasn't too hard to arrange. I had no desire to ride in a parade preferring a nice quiet trail over a ride down a paved street. There was a girl who had been working with Primero and showing him in a few horse show classes. When asked, she jumped at the chance and was delighted to ride in the parade. As for me, I never got to see them ride. I delivered the ladies and their mounts to the staging area and found total chaos. The person who was to organize the parade participants was a no show. I found group four and group twenty three waiting together while groups five and eight were on the other side of the parking lot. I had it all straightened out and received many compliments as to how smoothly it ran. I also was requested to come back the following year but declined as parades just aren't my thing. The Primero family and their riders had a wonderful time, wish I could have seen more than their tails disappearing around the corner.
Primero in the middle front with Moriah to his right slightly back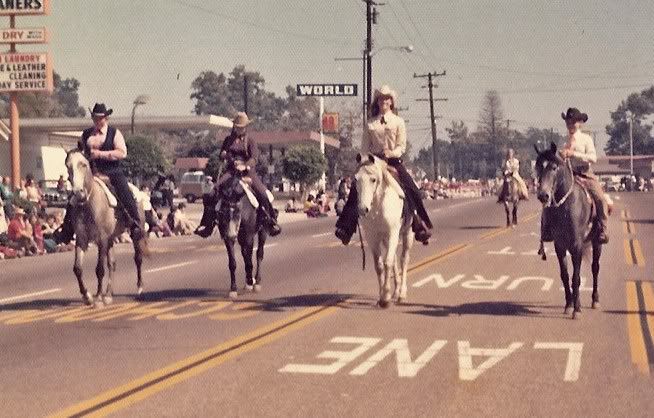 Meanwhile Moriah also was shaping up into a nice trail and camping horse. I never had a nervous moment when they went out for a solo ride. The mountains, valleys, and the ocean were just fine with those two. After Primero passed she was quite a comfort to Pam, seemingly understanding the situation and the need to just be there for her. I was actually the only trail problem that Pam and Moriah had. I loved to ride new trails which sometimes didn't work out as well as I had planned. On one such occasion we were all packed up and on the trail for an overnight camping trip. I had never been on this trail and was following a map. As Primero and I were happily leading the way I had unknowingly missed a turn and we were now on an unmarked trail. The trail led out onto a ridge with a drop off on each side. As we progressed it got narrower and the sides steeper but I could see a nice meadow in the distance. Pam was less than thrilled with this but the horses were handling it nicely. Suddenly there was a gap in the trail dropping off sharply. It was a long way down and impossible to jump. We were trapped. Looking down on each side I could see no way down without probable serious injury to us and the horses. To make matters worse the trail was now so narrow that to attempt to turn around would be almost impossible. It would be an extremely long way to back up and at my first attempt Primero stepped off the trail with one hind foot causing a gasp from Pam and a moment of terror for me. Now what? Sitting quietly I considered our situation. I could only think of one way out. Instructing Pam to stay mounted I dismounted from Primero. I had to place my feet slightly under him and hang on to the saddle. Slipping the reins over his head and bringing them along his left side I worked my way down his side and around his hip past the pack. Now came the difficult and dangerous part. Once again I found myself grateful for an intelligent and a smaller horse. With what I hoped was an encouraging and calming word, I held my breath and I gently coaxed him to turn around. With a calmness and a wisdom beyond mine, he paused for a moment,placed all four feet almost together and swapped ends. All packed up as he was he, just smoothly turned around in place without even knocking a single pebble from the trail. I just stood there looking dumbfounded while he stared at me as if to say "What? That wasn't difficult at all." Stroking his face gently I then turned my attention to the other half of the problem. Pam was not at all happy about this and was probably rethinking her choice of husbands at this point but there was no other way. Repeating what she had just observed she proceeded to the tail end of her horse. Moriah was apparently watching as well as she also preformed he same maneuver and now we could lead them out. On shaky legs we started back down the narrow trail and I thought I could hear Pam muttering something about never riding down another trail that I hadn't been on before. We continued walking down the trail leading the horses until we reached a nice place a nice to have lunch. The horses were rewarded with a nice grain meal and lots of love. Thankfully the rest of the camping trip was uneventful but Pam is still not too keen on riding the unknown trail with me.
zmokey and corasmom like this