0
Valentine
Posted by NadiaKA , 31 January 2009 · 610 views
We said goodbye to an old friend on January 12th. Linissa, better known as Valentine or Val, has been with us since 1997. Like many horse owners we started with just one, the purebred Arabian gelding Talhalla (Hal) in 1996. We soon began looking for a friend for Hal and a second riding horse for us, and our search led us to find Val in Anola, Manitoba. She was a 7/8 Arabian mare sired by the Mizan Taj Halim son Bay Boom and out of the 3/4 Arabian Cantu daughter Cantara Royale. She had at least one foal before we bought her, a colt for the owners previous to us who was a two-year-old and also for sale when we were there: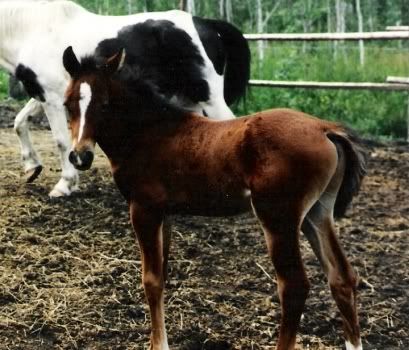 We tried her out and after taking a break for lunch and to talk it over, returned to pick her up and brought her home. Hal and Val became an inseparable pair, and Val became a trusted riding partner and our favourite to take inexperienced friends, young and old, for a ride.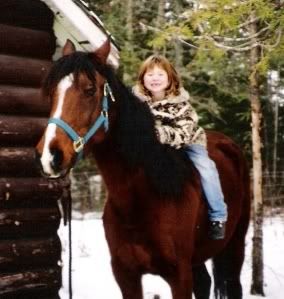 Val produced our first foal for us, a 15/16 Arabian colt we named Valentino kgi, sired by the pure Polish stallion Donatello BA who we found nearby in Emo (and thus began our friendship with Joanne of Aurora Wind Arabians). Unfortunately 'Tino' died after only a month for reasons never determined.
We rebred Val to Joanne's stallion Sundantz and in 2002 she produced the 15/16 Arabian filly Suntiara kgi. 'Tia' is now carrying on her mom's legacy as a youth mount.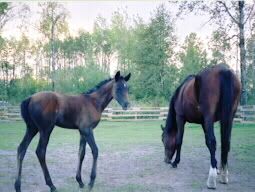 Val started showing symptoms of Cushings a couple summers ago, although looking back we can see warning signs that had started even before we brought her home. She deteriorated rapidly since fall and on January 12th experienced a twisted bowel- it was her time to go. She will be greatly missed.
"Valentine"
March 22, 1985 - January 12, 2009